AUGUST 26TH  – WOMEN'S EQUALITY DAY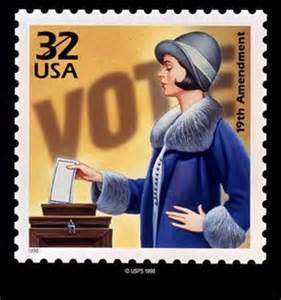 Women's Equality Day is a day proclaimed each year by the United States President to commemorate the granting of the vote to women throughout the country on an equal basis with men. Women in the United States were granted the right to vote on August 26, 1920, when the 19th Amendment to the United States Constitution was certified as law. [1] The amendment was first introduced many years earlier in 1878. Every president has published a proclamation for Women's Equality Day since 1971 when legislation was first introduced in Congress by Bella Abzug.[2] This resolution was passed designating August 26 of each year as Women's Equality Day.[3]  (Source: Wikipedia)
---
To:  Twin Rivers Branch Members and Your Friends,
Re:  INVITATION
You are invited to please join me at a nearby community event on Sunday, August 24th, 3:00 pm. to 5:00 pm for ANNUAL WOMEN'S EQUALITY DAY held at Carteret Community College, Bryant Student Center, 3500 Arendell St. in Moorhead City.  $5.00.  Tickets sold @ the door.  Light refreshments.  League of Women Voters in Carteret County.
From:  Judy Balsanek, Public Policy Chair
AAUW Twin Rivers (NC) Branch
---
Women's Equality Day 2014 Event Summary
"Commemorating passage of the 19th amendment in 1920 allowing women the right to vote"
League of Women Voters of Carteret County President Carol Geer welcomed approximately forty attendees, both women and men, attending the Women's Equality Day 2014 at Carteret Community College in Morehead City on Sunday, August 24th. She shared a history of LWV founded in 1920 for activist grassroots non-partisan advocacy to empower citizens to vote and overcome voting inertia. The Carteret League began in 1996. Carol recognized LWVCC Board Members and Members as well as elected officials. Carol introduced Guest Speaker, Patricia Orrange, Women's Forum of NC comprised of women member groups in NC. One of the important roles of the forum is to educate women on issues important to women and families as well as encourage women to vote. Pat stated "It is important to help women make the connection between women's issues and who they vote; "Advocacy by the Forum is related to Women's issues"; "Women's voices can be heard through their vote. "
Four Major Issues for Women emphasized by the League as shared by Pat are: Education, Voter Rights, Budget/Taxes, and Medicaid Expansion. Pat shared the following comments:
Voter Rights: This is a right of all citizens. 15,00 people without voter I.D. in Carteret County need to be found in Carteret County before the 2015 Presidential Election. Restrictive elements of NC's new voting law are being challenged legally. It is important to make it easier to vote.
Education: Education is the heart of a growing economy. Qualified teachers with support are needed. Funding well equipped classrooms and high quality personnel is critical. The League opposes vouchers. The League supports quality preschool education which unfortunate in NC recently had funds slashed. Teachers need continuing education which in NC is now defunded. Charter schools must be accountable the same as public schools.
Money: The League supports equitable taxes in NC. In the recently passed NC budget Senior Teachers received less than a one per cent raise. The Earned Income Tax Credit, very helpful to women and families, was eliminated and needs to be reconsidered.
Medicaid Expansion: Because NC legislator's did not participate in Medicaid Expansion 300,000 North Carolinians couldn't access quality healthcare. Now they will not receive Medicaid either and will continue to fall in the crack.
What to Do
Assure the highest quality of life for all citizens. We must advocate on issues not candidates. Again, women can make their voices heard through their vote. Women must register and vote. Traditionally there is low voter turnout in mid- term elections. League members must increase the voter turnout. Participate in NC Letter Writing Campaign directed at Women Voters, phone banking, talking to neighbors and friends, attend candidate forums and vote smart.
Women of the Year Award was presented by LWVCC President Carol Greer to Honoree: E. Wrenn Johnson, Morehead City, NC Chief of Police. A second recognition award was presented by NC Senator Norm Sanderson to Wrenn Johnson recognizing her service by the state of North Carolina.