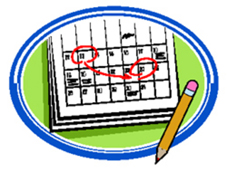 2015-2016 Current Events
Day/Date

Time

Meeting

August 28th
11:00 – 2:00
Participation in Student Activities Fair at Craven
Community College. We will participate at the Foundation Table with information about AAUW. The purpose is to gauge interest in starting an AAUW Student Chapter at the College.

September 24
11:30 – 1:00
Brown Bag luncheon at Mt. Olive. Discussion
Items to include results from CCC activities fair, and potential future collaboration with the College or other women's groups to grow our membership and enhance our mission.

---
Previous Events
Day/Date

Time

Meeting

Note:
—————–
Our Spring Events Are NOT at Mt. Olive Uni.
Month of March
Exhibit
Annual Women's History Month Display in the lobby of The New Bern Public Library. Focus: Women with STEM specialties. Two Branch members are included: Ginny Mattern and Wendy Cutler.
Chair: Ginny Mattern with Kim Crum and Wendy Cutler assisting
March 20 and 21
State Meeting
Annual AAUW NC State Meeting
Thurs. Mar. 26
Dinner : "Early Bird Special" for $15.95
Time:

No Later than 5:15



Annual Women's History Month Dinner Program: Guest Speakers currently featured in our March "Women in STEM" Exhibit at the New Bern Public Library –
Katrina Bishop, Chair of Math and Science at Craven Community College; Deborah Joyner, Website Systems Design at Craven Community College; Ginny Mattern, (branch member) Senior Consultant – Math Modeling LMI Government Consulting; Wendy Cutler (branch member) retired Space Science Computer Data AnalysisDinner Program Location: Harvey Mansion in Downtown New Bern

RSVP: Wendy Cutler

252-626-7360 or spaceship79@hotmail.com




Chair: Ginny Mattern with Kim Crum and Wendy Cutler

Tues. April 14
*Note different day of the week than our usual 4th Thurs.
Lunch Event
Time: 11:45
Equal Pay Day Community Luncheon
Location: Lawson's Landing Restaurant at the History Center in New BernNote: Discount Given for All Women's Lunches Co-Chairs: Mary Peterson and Ann Corby
Thurs. May 28
Lunch Event Time: 11:30


Lunch Meeting with Program:

Family Law Attorney Deborah Van Dyke (from Beaufort NC) will speak on

"Domestic Violence and Mediation"

.

Note: Deborah was our Twin Rivers Branch 2010 AAUW Local Scholarship recipient.


Location: The Emerald Clubhouse in Greenbrier

Menu: Grilled Chicken on a Spinach Salad, Rolls, Dessert Lemon Squares, Coffee and Tea. $16.00, including tip.

RSVP: By Mon., May 25th to Ann Corby , 637-9499 or jrcorby@hotmail.com

Co- Chairs: Ann Corby and Mary Peterson

June Date: TBD
Time: TBD
Branch Planning Meeting for 2015 -2016 facilitated by Joanne Hill Location: TBD
Day/Date

Time

Meeting

Thurs. Sept. 25

11:30 am
Branch Meeting at the University of Mt. Olive, 2912 Trent Road, New Bern, NC. 252-633-4464
Note: You are asked to please bring your own lunch.
Program: STEM
Member Ginny Mattern is in charge of the program on STEM education. In addition, new member Deborah Rhymer will talk with us about helping with a local STEM project. (We are making a commitment to be finished by 1:30pm.)
Thurs. Oct. 23

11:30 am
Branch Meeting at the University of Mt. Olive, 2912 Trent Road, New Bern, NC. 252-633-4464
Note: You are asked to please bring your own lunch.
Program: Campus Sexual Assault Crisis on American Campuses
Member Judy Balsanek, MSW, ACSW, LCSW and Branch Public Policy Chair is in charge of the program. Judy will share current data on Campus Sexual Assault, AAUW's recent national legislative advocacy efforts at the White House and on Capital Hill, New government guidelines clarifying school reporting responsibilities for incidents of domestic violence, dating violence, sexual assault and stalking, and Efforts by AAUW student organizations at campuses across the country to raise awareness about sexual assault.
Thurs. Oct. 30

11:30 am
All branch members and their guests are invited to attend a special Community Women's Event in Havelock (Havelock Tourist and Event Center, 201 Tourist Center Dr., Havelock, NC). AAUW Twin Rivers Branch and AAUW NC are part of a coaltion of women's organizations sponsoring this event.
Program: Salute to Women in the Military
View more information.(Note: Mary Peterson, AAUW NC State President and President of Twin Rivers (NC) AAUW is assisting with local arrangements for this event.)
Thurs. Dec. 4

12:00 pm
Holiday Brunch/ Luncheon
Our annual Holiday Luncheon will be held at The Aerie Bed and Breakfast in historic downtown New Bern, 509 Pollock Street.
*See notice
Sat. Jan. 31
11:30 am
Annual Author's Luncheon and Scholarships Benefit for Local Women and Girls
Chelsea Restaurant (upstairs) in Downtown New Bern
Co-Chairs: Ann Corby and Connie Whitney
*See Notice
**See Member Ticket Instructions
Thurs. Feb. 26
11:30


BYO Lunch

Our Local Engineering Summer Day Camp*
Guest Speaker:

Dr. Bill Fortney


Eastern Regional Director for Engineering / Teaching Assistant Professor in Mechanical & Aerospace Engineering for North Carolina State University
*Our Branch provides a Scholarship for this Engineering Camp.


Location: Mt. Olive Uni., New Bern Campus


Chair: Ginny Mattern